Heavy Metal Testing for the Cannabis Vape Hardware Industry
如果您是从黑市购买的,则没有真正的方法可以知道您得到了什么。有毒的 vape 弹药筒来自不安全的黑市,并且超过了 CA 的重金属测试标准。当然,我们都知道危险产品通常通过非法市场进入。
事实上,黑市上仍然充斥着含有危险重金属和铅的毒油烟弹。电子烟烟弹中的重金属,包括铅、砷和汞,显然越来越受到消费者的关注。但现在情况正在发生变化。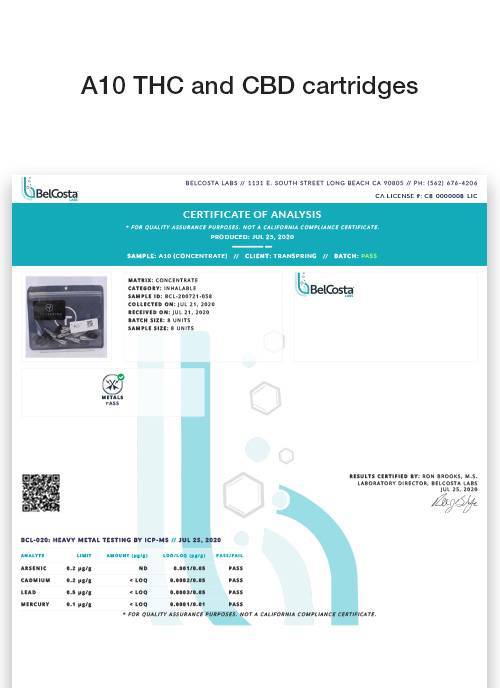 到 2018 年底,没有关于汽化器行业污染物的国际或国家法规,设备制造商也没有明确的指导方针。但当时我们还在努力建立质量评价体系。

由于 CA 发布了用于重金属测试的 CA 标准。Transpring第一时间开始在Belcosta Labs等知名实验室对Transpring产品进行测试,所有产品均通过了CA HEAVY METALS TESTING。然而,一些推出的品牌烟弹往往因为原材料来源、制造过程或与油接触的重金属而无法通过 CA HEAVY METALS TESTING。

但对于我们的客户,您可以放心购买 Transpring 产品。Transpring的产品赢得了世界顶级石油制造商和石油品牌的信任。我们一直在提供安全健康的产品,以帮助合作伙伴和客户放心购买。

Transpring places the highest priority on product safety and quality and our products passed all related certifications to let our customers buy confidently.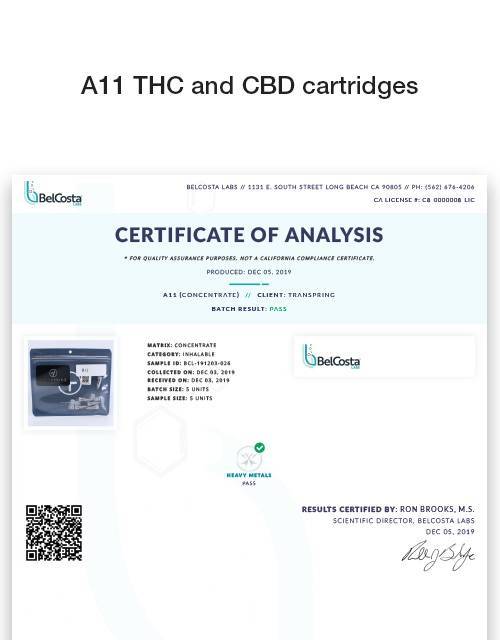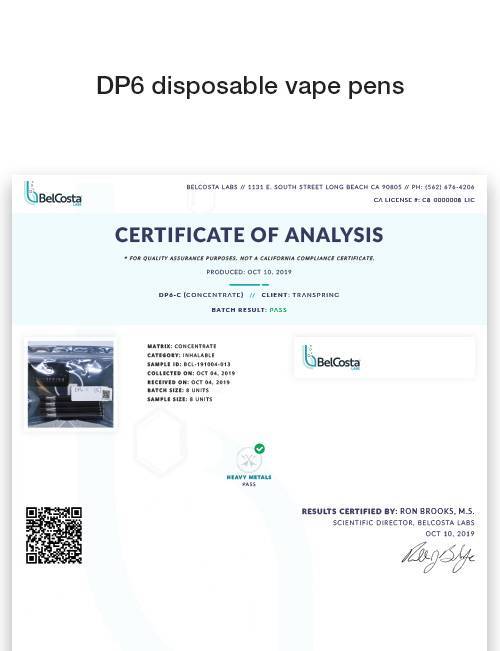 Transpring cartridges utilize medical-grade stainless steel, ceramic mouthpieces, and Hcore ceramic heating core. By eliminating or minimizing heavy metals and the use of plastics, fibers or paints in the vapor path throughout the entire raw material and manufacturing process, Transpring takes your health seriously.



In an effort at full transparency, we even released the test results to related industry media and get them published on social media platforms. See our test reports and you will have peace of mind to know that Transpring has always been proactively committed to providing the most healthy, securest cartridges. We even proactively had all our cartridges heavy metal tested by well-known labs like Belcosta Labs.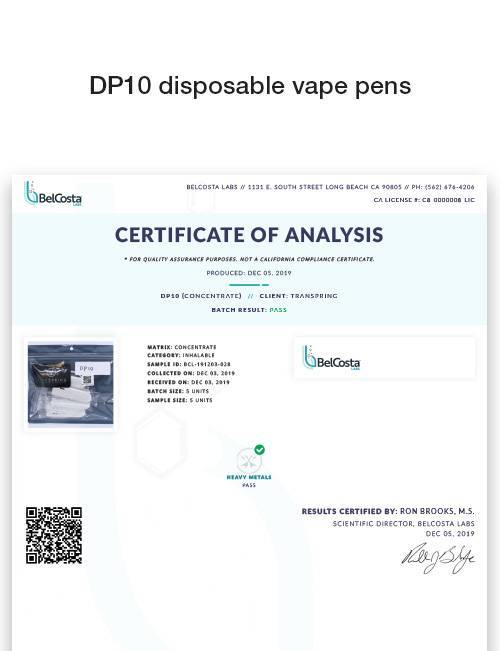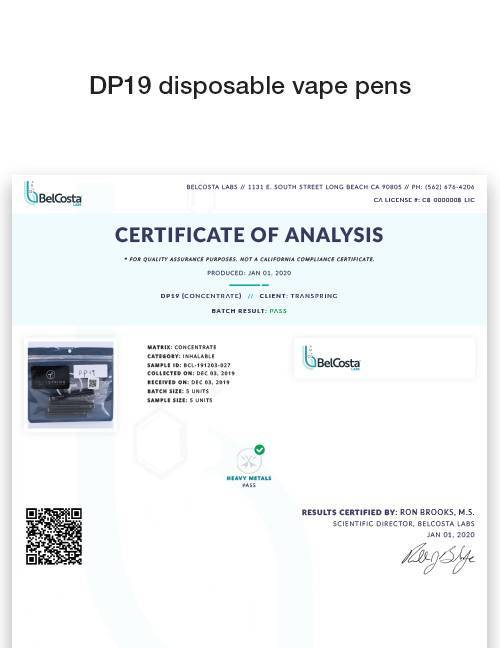 The testings were done at Belcosta Labs ( Long Beach, California). We randomly select some sample Transpring products on each batch and get the testing performed at Belcosta Labs.

The Phase 3 test is assumed as the standard by the whole industry in California for heavy metals per the California of Cannabis Control.
The test's fail conditions for each of the metals are:

Arsenic: 0.2 μg/g
Cadmium: 0.2 μg/g
Lead: 0.5 μg/g
Mercury: 0.1 μg/g
测试的 Transpring 产品包括:

A3C THC 和 CBD 墨盒

A10 THC 和 CBD 墨盒
A11 THC 和 CBD 墨盒
P10 THC 和 CBD 墨盒
P10G THC 和 CBD 墨盒
DP6一次性电子烟
DP10一次性电子烟笔
DP19一次性电子烟
……
如以上测试报告所示,所有Transpring产品均通过了CA HEAVY METALS TESTING。

为了让消费者保持安全并知道您购买的是经过验证的正品 Transpring 产品,请仅从获得许可的石油生产商或零售商处购买。Transpring 仅与获得许可的石油生产商或品牌建立合作伙伴关系。经过验证的 Transpring 产品均列在我们合作伙伴的官方网站上。

如果您对重金属测试或说明有任何疑问,请在工作时间通过电子邮件 info@transpring.com 与我们联系。